Theater made from hay bales
Straw Auditorium from the concert the 4 elements
Construction of an ephemeral space, with the use of renewable natural resources and zero waste generated . Auditorium formalized through a dynamic spiral geometry. It consists of access space-acoustic silencer and space for 450 chairs arranged concentrically around the stage.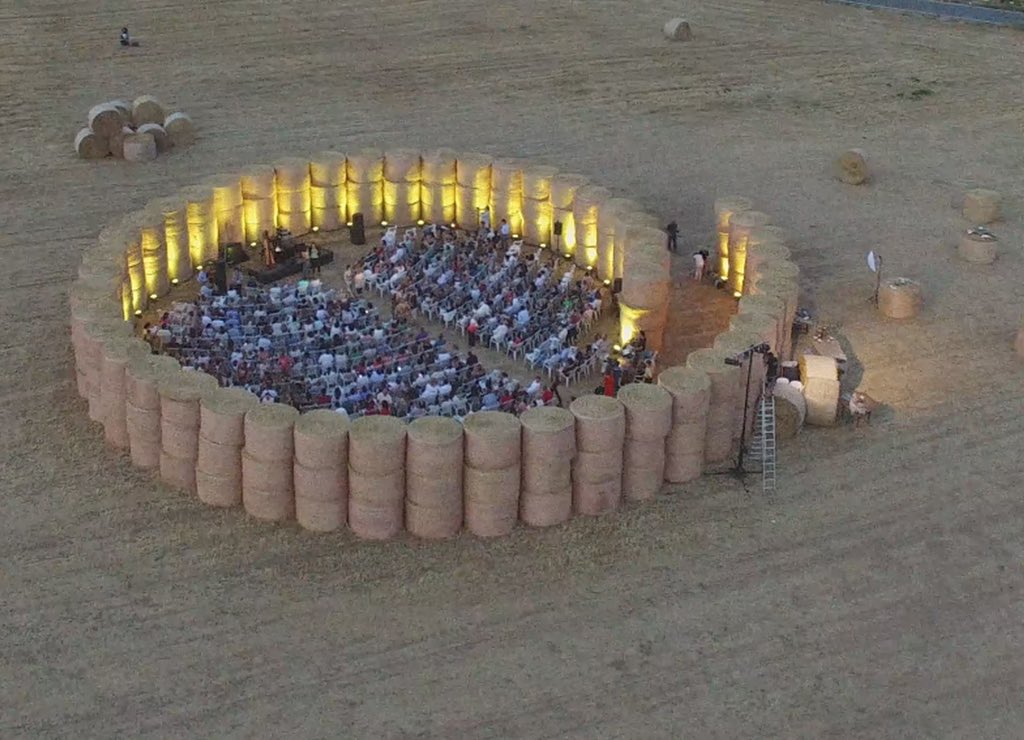 The artificial light completes the scenery, going from the twilight light beginning of the concert, to the bathing with color light of the RGBW led pairs. With temporary use construction materialof straw bales from the same farm where the auditorium is located, living material within a closed life cycle, deviated from the agri-food world, becoming construction material.
Once the auditorium is dismantled, the material returns to the food chain, the straw is transported to the farm where it will be bedding and food for the pigs that will transform it into manure and this will be fertilizer for the same land sown a year before. This last action closes the annual life cycle of a living material, which has allowed an artistic creation.
Here's an official video about it
More information:
https://web.archive.org/web/20200730092957/http://www.arquitectes.cat/iframes/mostres/fitxa/3342?fbclid=IwAR0ma8ISchtFmn8Rp4EItxe-ofnvIIqb_MQYyT7WOJTrinZCUhPsM5Iha5A
https://www.arquitectes.cat/iframes/mostra_new/visor.php/obra/3342?&lang
https://twitter.com/coaclleida/status/1280453933736042499?s=19